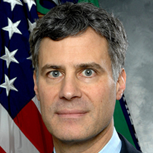 Alan Bennett Krueger (born September 17, 1960) is an American citizen. He is Bendheim Professor of Economics and Public Affairs at Princeton University and Research Associate at the National Bureau of Economic Research. On March 7, 2009, he was nominated by President Barack Obama to be United States Assistant Secretary of the Treasury for economic policy. In October 2010, he announced his resignation from the Treasury Department, to return to Princeton University. On August 29, 2011, he was nominated by Obama to be chairman of the White House Council of Economic Advisers, and on November 3, 2011, the Senate unanimously confirmed his nomination.

Alan B. Krueger has published eight books and numerous articles about the economics of education, terrorism, unemployment, labor demand, income distribution, social insurance, labor market regulation and environmental economics.

He has had editorial responsibilities in the most prestigious scientific journals (e.g. Science, The Quaterly Journal of Economics, The Journal of Economic Perspectives).

Noticeable scientific distinctions: former member of the Executive Committee of the American Economic Association (2005-07) and of the International Economic Association. Sloan Fellow in Economics, NBER Olin Fellow, Fellow of the Econometric Society, Fellow of the Society of Labor Economists, Fellow of the American Academy of Arts & Sciences, Fellow of the American Academy of Political and Social Science. Kershaw Prize by the Association for Public Policy and Management (1997), Mahalanobis Memorial Medal by the Indian Econometric Society (2001), IZA Prize in Labor Economics with David Card (2006).
Keynote Lecture
"Policy for Independent Workers"

In the U.S. and many other countries, a growing share of workers are working either full-time or part-time in self-employment, as independent contractors, freelancers, and "gig" workers. This lecture will document trends on the growth in self-employed workers and discuss public policy issues concerning the self-employed, including tax policy, portable benefits, labor market protections, and job training.

Web page: https://krueger.princeton.edu/

(credit photo: United States Department of the Treasury)